Navigation
Log on to Student Central. You can get to the Class Search interface by following any of the following navigational paths:
Go to Main Menu>Self-Service>Class Search, or
Go to Main Menu>Curriculum Management>Schedule of Classes>Class Search, or
Go to Main Menu>Campus Community>Student Service Center, or
Go to Main Menu>Record and Enrollment>Enroll Student>Search for Classes.
NOTE: Students can go through myFSU portal to perform a class search. Alternately, after a student is in Student Central, s/he can access the class search from the self-service page.
Steps
1. On the Class Search Criteria page, locate the Academic Organization (Acad Dept) field. If you don't know the code for your academic organization, click the Look Up button (magnifying glass).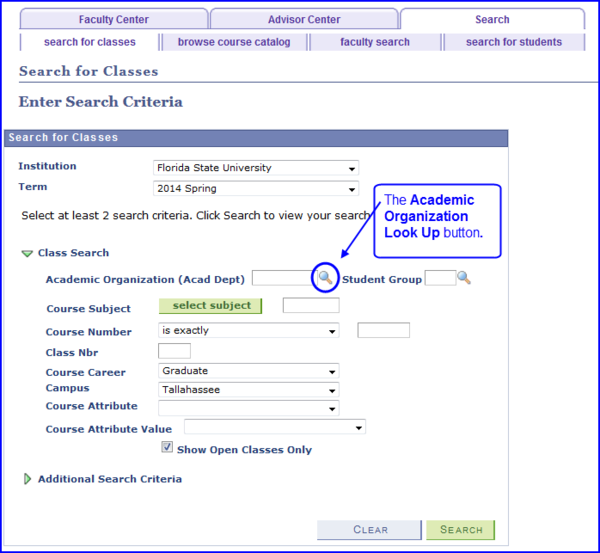 2. To easily find the department, in the Description field choose the contains operator, and in the adjacent field type the subject. In this example, philosophy was chosen.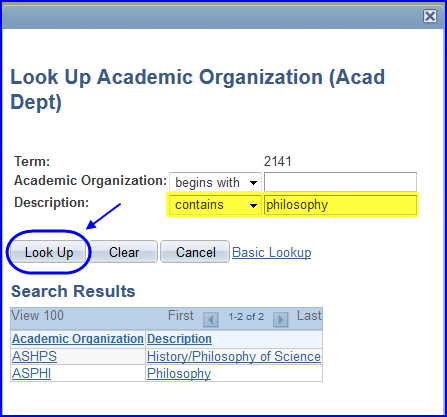 3. Click Look Up, and the search returns both departments containing the word philosophy.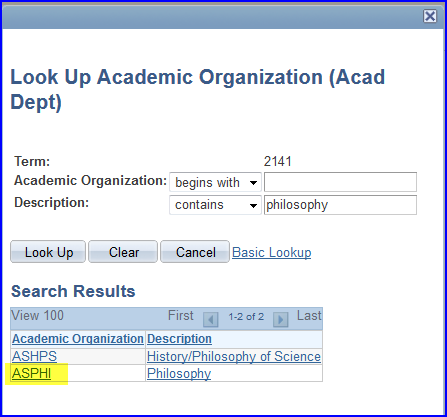 4. Click the appropriate department, and it populates the Academic Organization (Acad Dept) field on the main Search for Classes-Enter Search Criteria page.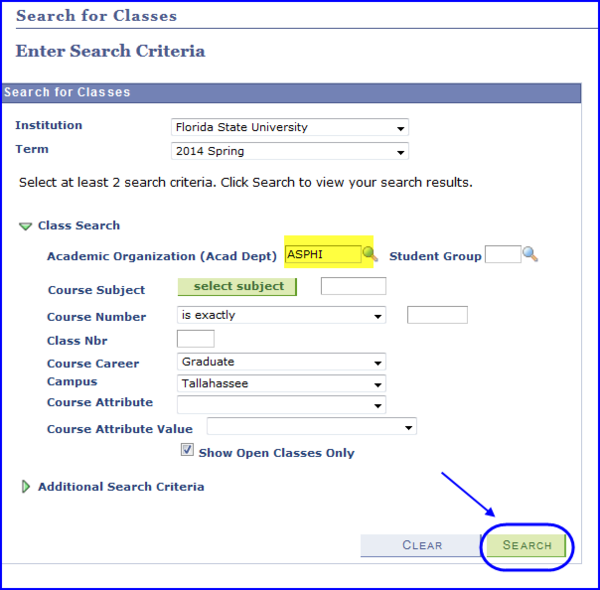 5. Click the Search button, and all of the classes owned by the Philosophy department appear for the selected term (in this example, Spring 2014).
NOTE 1: The academic organization syntax is as follows: The first two letters represent the college AS (Arts and Sciences), BU (Business), ED (Education), and so on. The next 3 letters represent the department ACC (accounting), HIS (History) and so on. Some departments may have _INT appended indicating an interdisciplinary department. Some departments may have another string representing a sub-unit within the dept (mostly found in Modern Languages). And some are not departments at all, but rather centers that coordinate degree programs and/or courses.
NOTE 2: Two changes have been made to the academic organization syntax.
Human Science is now HS not HE
Communication is now CI not CO