If you need a quick refresher on some basics before proceeding, see the Run Queries and Create Excel Reports page.
Following the steps provided here, you can query to determine what plans are associated with the reserve capacity requirement group that begins with RC_PLN.
Cross-referencing the results of your query with a student's enrollment issue allows you to troubleshoot why he or she is unable to enroll in a class.
REMEMBER: Reserve capacity requirement group custom bundles are configured by the Office of the University Registrar. Contact Jeremy Johnson if you need a reserve capacity custom bundle defined. (For example, if an academic organization requires several student populations to be grouped together.)
BUT academic departments offering the class associate a specific reserve capacity plan-or custom bundle-with individual class sections.
1. Go to the Class Search and in Class Details, obtain the Group Name.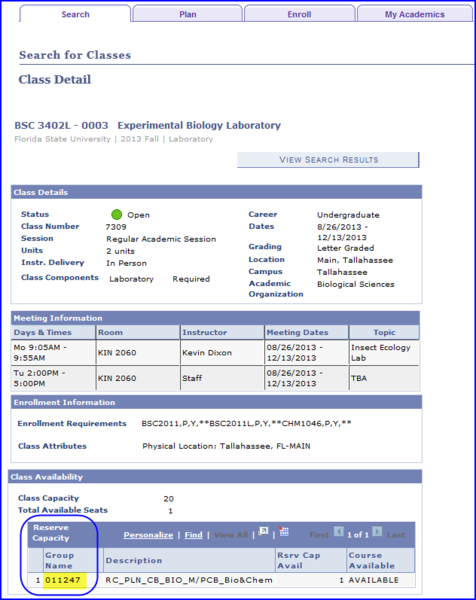 2. Go to PSQuery Viewer by navigating to Main Menu>Reporting Tools>Query>Query Viewer.
3. Search for FSU_SR_RQ_GRP_LKUP_BY_GRP. Click Search.

4. When the query result appears, click either Run to HTML or Run to Excel as you prefer. (This example uses Excel.)

5. After selecting a Run method, the report interface appears. In the Rq Group field, enter the Group Name you obtained from the class search. (In this case 011247.)

5. Click View Results. A dialog box appears confirming you want to open the report results in Excel.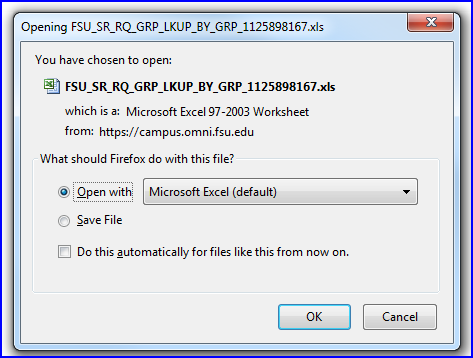 6. Click OK. Your report results appear.

NOTE: To look up a reserve capacity requirement group by the academic plan tied to it, follow the steps above but in step #3, use FSU_SR_RQ_GRP_LKUP_BY_PLN.