Navigation: Log on to Student Central. Go to Main Menu>Records and Enrollment>Enroll Students>Quick Enroll a Student
1. In Quick Enroll, ensure the Add a New Value tab is active.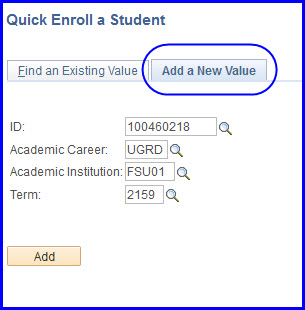 2. Supply values for ID, Academic Career,and Term.
3. Click Add. The Quick Enrollment page appears.
4. Ensure the Action value is Enroll.

5. Click the Class Search Look Up (first magnifying glass) or enter the class number in the Class Nbr field.
6. Enter the subject in the Subject field, and enter the course number in the Course Number field.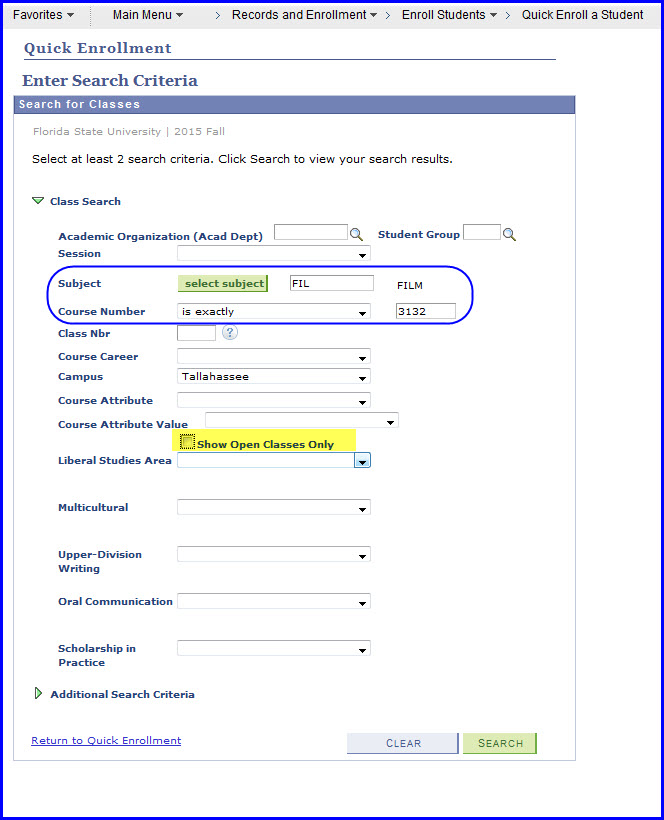 7. Clear the Show Open Classes Only check box.
8. Click Search and click the select class button adjacent to the correct section number. You are returned to the Quick Enrollment page.
9. Click the Class Overrides tab.

10. Select the Closed Class check box.
NOTE: Selecting Closed Class will open the class to the student whether he or she couldn't get in because of a major restriction, or whether he or she couldn't get in because the class was full.
11. Click Submit.
12. Click Save.