Student Central leverages Human Resources' e-Online Role Request (eORR) to grant individual staff role-appropriate access to the system.
In order to request permission for a certain role and initiate an action in eORR, you first need to know what role(s) are needed. At the end of a training course, your instructor will let you know which role(s) should be requested in order to perform the functions taught in that class. Roles for Advisor Center training, Student Records 101, and/or Student Records 201 training are listed below.
Next, you must initiate a request through eORR. Using workflow technology, eORR accepts your security request, routes it to your supervisor for approval and forwards it to the business office owner for the final sign off. Gaining security for a particular role is complete as soon as your supervisor and the "role owner" go online to approve the request.
IMPORTANT: Some roles within Student Central will require additional security referred to as "ROW-level" access to view and/or update the specific data on a page. However, this type of additional security provisioning is not yet automated through eORR. Ask your trainer or business office to inform you of the additional steps required to gain row-level access.
1. Go to my.fsu.edu and log on with your FSUID and password. Your portal page appears.
2. On the left-hand side of the portal page, click the HR link.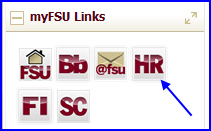 3. Navigate to Main Menu>eORR Online Role Request>Submit Role Request. The Online Role Request/Employee Search interface appears.
4. Search by your Last Name or your Employee ID (Empl ID).
5. Select your name in the Search Results pane. The Create Role Request/Select the Application pane appears.
6. Choose Campus Solutions and click Continue. The Create Role Request/Select Action pane appears.
7. Select Add and click Continue. The Create Role Request/Select the Roles for Campus Solutions Application pane appears.
8. Select Both and click Continue. The available security roles appear.
9. Select the appropriate roles and click Continue. The Create Role Request/Role Entry for Campus Solutions Application pane appears.
10. In the Reason for Request drop-down box select Other.
11. In the Justification text box type Required for job duties.
12. Click Submit. The Create Role Request/Submit Confirmation pane appears with a compliance notice.
13. Click OK if you agree to the terms. The Approval Monitor pane appears.
14. Click Submit.
TIP! When selecting roles in eORR, it's easy to select the wrong check box because many role names have similar alpha strings. Where the functional role name and eORR role name differ, it's often easier to spot the correct role by looking at the Functional Role Name in eORR's Select Roles table.
ADVISOR CENTER ROLES
eORR Role Name
Row Level Security Required (*)
Functional Role Name
Description
FSU_AA_CRSE_SUBSTN_VIEW
 
View Course Substitutions
View-only access to course substitutions for a student
FSU_AA_SS_ACCESS_ADVISOR
 
Access Advisor Center
View-only access to all pages in Advisor Center
FSU_AA_STUDENT_EXCEPT_VIEW
 
View Student Exceptions
View-only access to view student exceptions
FSU_CC_SI_UPDATE
*
Service Indicator - Update
Access to update SI elements; no access to mass assign or release functionality
FSU_CC_STUDENT_VIEW
 
View Student Bio/Demo Data
View-only access to view students' bio/demo data
FSU_SR_3C_SUMMARIES_VIEW
 
3Cs Summaries - View
View-only access to 3C (comments, communication, checklist) information
FSU_SR_CLASS_SCHED_VIEW
 
Class Schedule - View Only
View-only access to view class schedule and all other pages under this item
FSU_SR_CRSE_CTLG_VIEW
 
Course Catalog - View
View-only access to view the course catalog including course associations
FSU_SR_ENROLL_SUMMARIES_USER
 
Enrollment Summaries - User
No transactional functionality for this role. View-only access to enrollment summary. View term statistics, tab notes, enrollment, and transfer credit plus combined units.
FSU_SR_SELFSERVICE
 
Student Records Self-Service
View-only access to student shopping cart, planner, etc.
FSU_SR_STUDENT_PROGRAM_PLAN_VW
 
Student Program Plan - View
View-only access to student program/plan stack
FSU_SR_STUDNT_BACKGRND_INFO_VW
 
Student Background Info - View
View-only access to student advisor's name based on career and program/plan. Provides information on extracurricular activities and student's photo.
FSU_SR_STU_GROUPS_UPDATE
*
Student Group - Update
Access to add/delete student groups. No correct history functionality with this role
FSU_SR_TERM_ACT_STU_VIEW
 
Term Activate a Student - View
View-only access to view if student was activated for a given term
FSU_SR_TERM_HISTORY_VIEW
 
Term History - View
View-only access to term and cumulative GPA, withdrawal, and academic standing statistics
FSU_SR_XFER_CREDIT_EVAL_VIEW
 
Transfer Credit - View
View-only access to
STUDENT RECORDS 101
eORR Role Name
Row Level Security Required (*)
Functional Role Name
Description
FSU_CC_SI_UPDATE
*
Service Indicator - Update
View-only access to all current and past service indicators; may also add/delete (update) select service indicators if row-level access is approved.
FSU_CC_STUDENT_VIEW
 
Student Bio Demo - View
View-only access to student bio/demo data
FSU_SR_CLASS_SCHED_VIEW
 
Class Schedule - View Only
View-only access to student class schedule
FSU_SR_CRSE_CTLG_VIEW
 
Course Catalog - View
View-only access to view the course catalog including course associations
FSU_SR_ENROLL_SUMMARIES_USER
 
Enrollment Summaries - User
No transactional functionality for this role. View-only access to enrollment summary. View term statistics, tab notes, enrollment, and transfer credit plus combined units.
FSU_SR_STDNT_BACKGRND_INFO_VW
 
Student Background Info - View
View-only access to student advisor's name based on career and program/plan. Provides information on extracurricular activities and student's photo.
FSU_SR_STUDENT_PROGRAM_PLAN_VW
 
Student Program Plan - View
View-only access to student program/plan stack
FSU_SR_STU_GROUPS_UPDATE
*
Student Group - Update
Access to add/delete student groups. No correct history functionality with this role
FSU_SR_TERM_ACT_STU_VIEW
 
Term Activate a Student - View
View-only access to view if student was activated for a given term
STUDENT RECORDS 201
eORR Role Name
Row Level Security Required (*)
Functional Role Name
Description
FSU_SR_ENROLLMENT_STAFF_USERS
*
Enrollment Staff Users
Update access to student enrollment
FSU_SR_MAINT_REG_VIEW
 
View Registration Maintenance
View-only access to registration maintenance
FSU_SR_STU_PROG_PLAN_UPDATE
When requesting this role, request deletion of FSU_SR_STUDENT_PROGRAM_PLAN_VW
*
Student Pgm Plan Update
Update access to student program/plan stack
FSU_SR_TERM_HISTORY_VIEW
 
Term History - View
View-only access to term and cumulative GPA, withdrawal, and academic standing statistics