To send an unofficial or an official enrollment verification to one of your addresses or another institution, follow the instructions below.
Steps
1. In your Student Center under the Academics area, select Enrollment Verification from the drop-down menu and click the >> button. The Request Enrollment Verification page appears.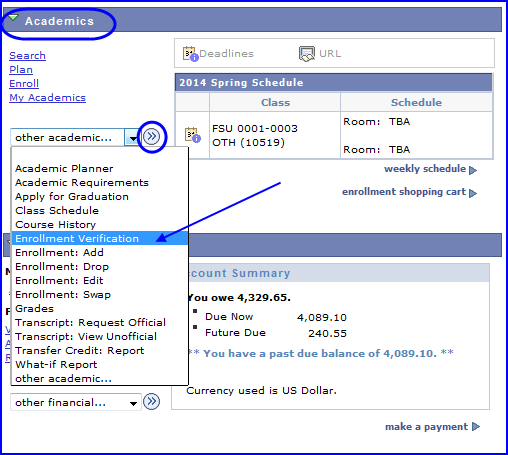 2. In the Select Processing Option box, choose the items to include on the enrollment verification.
Include My Program and Plan-selected by default
Include My Earned Degrees-selected by default
Include My Term and Cum GPA
Include my SSN
Include My Date of Birth
NOTE: If you want all enrolled terms to appear on the verification, leave the term drop-down blank.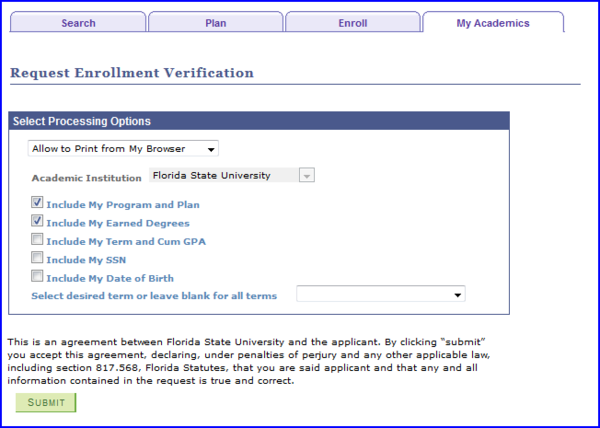 3. To send an unofficial enrollment verification, in the Select Processing Option box choose Allow to Print from My Browser and then click Submit.
NOTE: Selecting this option produces a PDF that you can mail. Ensure that your browser's pop-up blocker is turned off. For additional instructions, see the Allowing Pop-Ups section of the Browser Settings-Tips and Tricks How-To topic.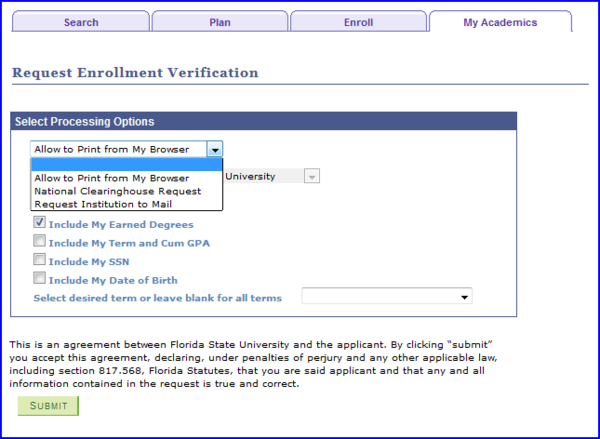 4. To send an official enrollment verification, in the Select Processing Option box select Request Institution to Mail. This selection activates the Enter Recipient Address Information box.
IMPORTANT! Selecting National Clearinghouse Request also produces an official enrollment verification. However, the National Clearinghouse option generates a PDF, which cannot be printed on official FSU paper.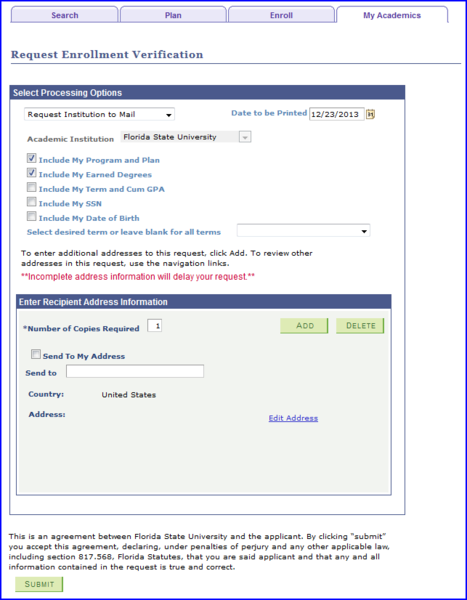 5. To have the official enrollment request sent to your address, select the Send to My Address check box.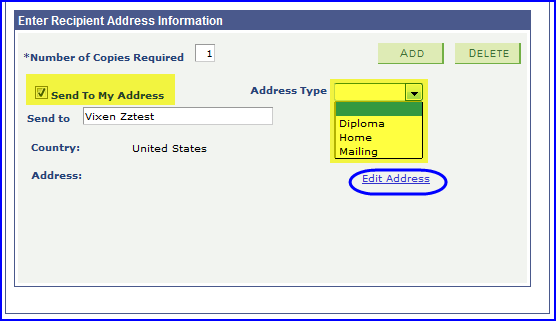 6. Click the Address Type drop-down to select the address to mail to. If the resulting address should be edited, click Edit Address and the Edit Address page appears where you can make corrections. Click OK when finished updating the address.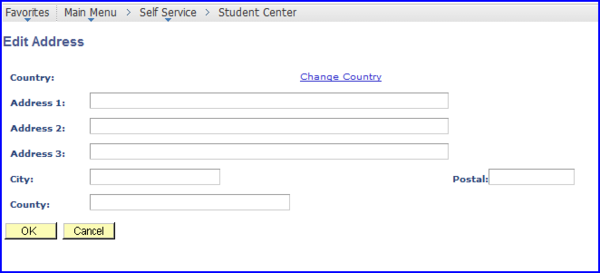 7. To request that the enrollment verification be sent to another institution, type that institution's name in the Send to field.
8. Click Edit Address to provide additional address information.
9. To send the official enrollment verification to another institution, click the Add button and repeat steps 7 and 8. To remove any request, click Delete.
10. Click Submit when finished.