How to View an Unofficial Transcript
For Current Students
1. From your Student Center, under the Academics area click the drop-down box arrow and select Transcript: View Unofficial. Click the Go button.
NOTE: Alternately, if you're already in Student Central, you can navigate by following: Main Menu>Self Service>Academic Records>View Unofficial Transcript. Another option: from your portal page, under the My Courses area on the Past tab, click the Course Quicklinks link and select View Unofficial Transcript.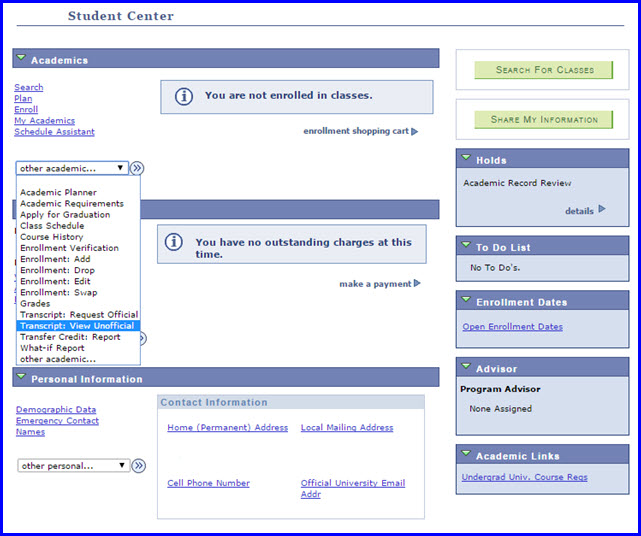 2. The View Unofficial Transcript interface appears. In the Report Type drop-down box, select Unofficial Transcript.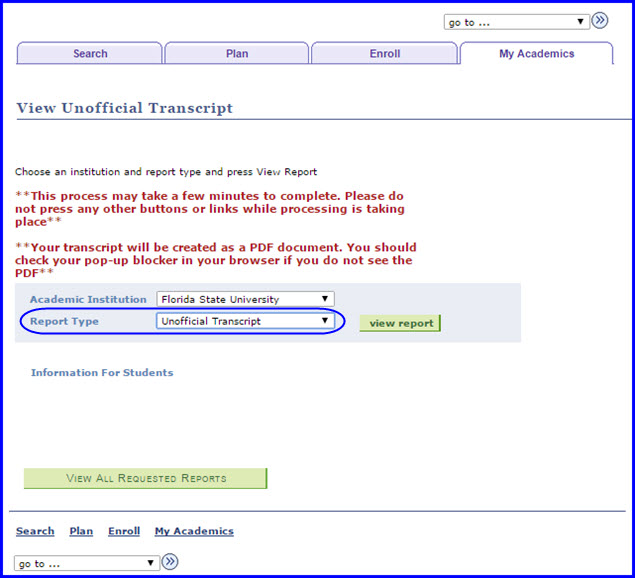 3. Click the view report button.
IMPORTANT! Generating the report might take a few minutes to complete. Don't press any additional buttons or click any links while the report is generating!
4. A PDF of the report opens in a separate tab.
NOTE: You must turn off the browser's pop-up blocker. For instructions on how to do this, reference the Allowing Pop Ups section of the Browser Settings-Tips and Tricks How-To topic.
For Former Students
If you're an alumni or former student but you don't know your Username (FSUID), please navigate to my.fsu.edu, and under the myFSU Login column at the right-hand side of the page, click the Activate/Retrieve Your FSUID link. Follow the prompts to obtain your FSUID.
If you had an FSUID before, you'll just need to reset your password.
To do so, you will need to know your EmplID number. If you no longer have this number, email us at registrar@admin.fsu.edu. Please provide identifying information such as full name (including former name if appropriate), date of birth, dates of attendance, degree earned, and so on. We will reply with your EmplID within 24 hours.
If you need additional assistance with your FSUID and password, please call the ITS Service Desk at 850-644-4357 (644-HELP), Monday-Friday, 8am-6pm (EST).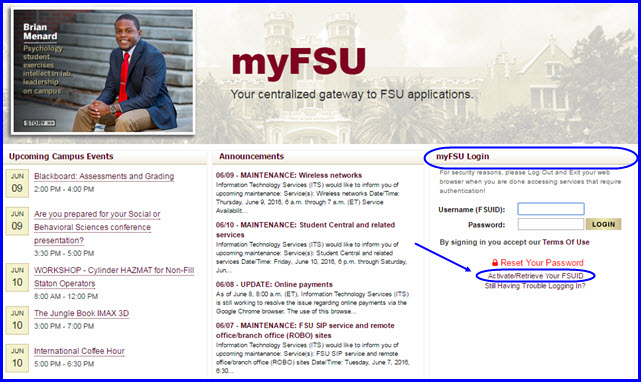 When your portal page appears, on the left-hand side expand the Alumni and Former Students category.Select View Unofficial Transcript and follow steps #1-#4 above.