A Note About Future Registration
After you apply for graduation, a stop will be placed on any future registrations unless you have been readmitted to the university or your name has been removed from the graduation list.
When you receive a degree from the University, you are "discharged" as a student. If you wish to continue as a doctoral student, special (non-degree seeking) student, or to work on a second bachelor's degree, you must apply for readmission to the University through the appropriate section of the Admission's Office.
Master's degree seeking students must be readmitted through the Graduate Admissions Office.
Request a University Graduation Check
IMPORTANT: Requesting a graduation check is NOT the same as applying for graduation!
The University Grad Check service indicator is placed on your account when you accumulate 100 credit hours. To have the hold removed, you must request a graduation check. After you submit your request, the University Graduation Check hold is removed from your account within one business day. You will receive an email notification after the Graduation Services staff completes the review. A new link appears on the request page, allowing you to download your graduation check. Alternately, you may pick up a copy from the Graduation desk located in University Center A, Room 3900. Business hours are 8:00 a.m. to 5:00 p.m. No appointment is necessary. The following students are exempt from the requirement:
students who have already requested the graduation check, and
those students with prior bachelor's, master's, or doctoral degrees.
1. Navigate to registrar.fsu.edu/graduation/checklist and click the Request a University Graduation Check link.
2. Log on with your FSU login and password. The Welcome to FSU Graduation Check page appears.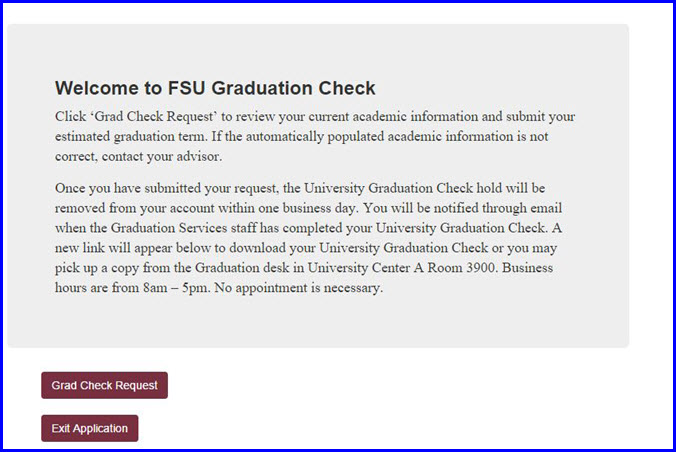 3. Click the Grad Check Request button.
4. When your graduation check is complete, you'll receive a notification email from the Graduation Department. After you receive the notification, you can return to registrar.fsu.edu/graduation/checklist and click the Request a University Grad Check link to view your completed Graduation Check.