Schedule Assistant is an application that will generate all possible schedule combinations based on your class selections, allowing you to evaluate which one will work best for you.
Keep in mind that you can continue to use Class Search's robust search functionality to identify the courses you should take in any given semester. After making selections in Class Search and placing them in your shopping cart, they're exported to Schedule Assistant where you can:
add additional classes
build "breaks" into your schedule. For example, if you have a conflict with work on Wednesday mornings, you can input a break for that time so that classes aren't scheduled during that period.
schedule travel time between classes. Perhaps you'd like 30 minutes commute-time between classes. You can schedule that through Schedule Assistant's Class Padding feature.
"lock" a class such that it is always on your schedule and other classes are scheduled around, given what's offered during the semester in question.
The instructional sequence below begins with a student who has already placed a section of REL 1300 in her shopping cart.
IMPORTANT! Note that if you add classes to your shopping cart through Student Central while you have an open browser session of Schedule Assistant running, those additions will not display in Schedule Assistant. You must close the current browser session of Schedule Assistant and reopen it after you make changes in Student Central to see those updates.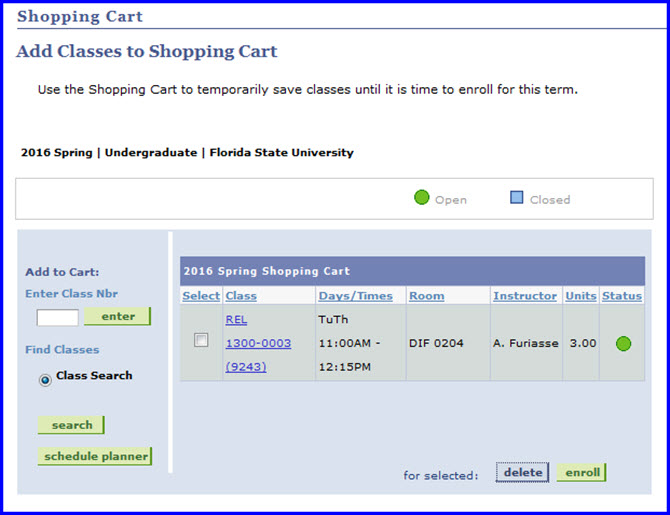 1. To access Schedule Assistant, navigate to your Student Center and click the Schedule Assistant link under the Academics bar.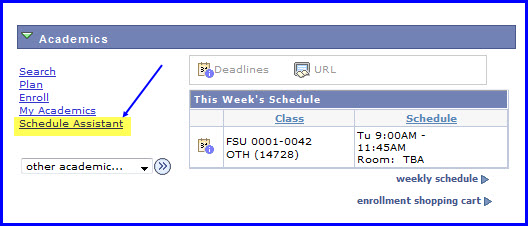 2. The Schedule Assistant Instructions page appears. Read the instructions, and then click the button at step #1 to access the Schedule Assistant application, which opens in a new window. Leave the previous window open. You'll return to it when you generate a chosen a schedule.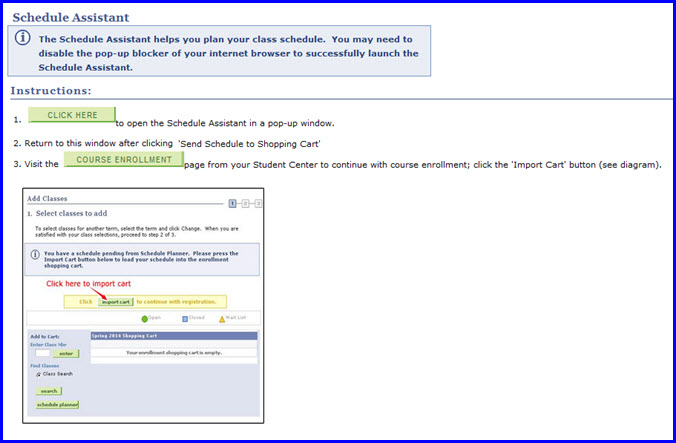 3. On Schedule Assistant's main page, you must set the defaults for Course Status, Campuses, Academic Careers, Sessions, and possibly Term, if it's during a time you can register for both summer and fall semesters.
NOTE: By default, ALL of the options under these items are selected, so you must manually choose only those options that apply to your specific circumstances. For example, click the Change button for Campuses, and you'll see all three campuses are selected. If you're taking classes only on the main campus, you must clear the check boxes for Panama City, FL and Republic of Panama.
​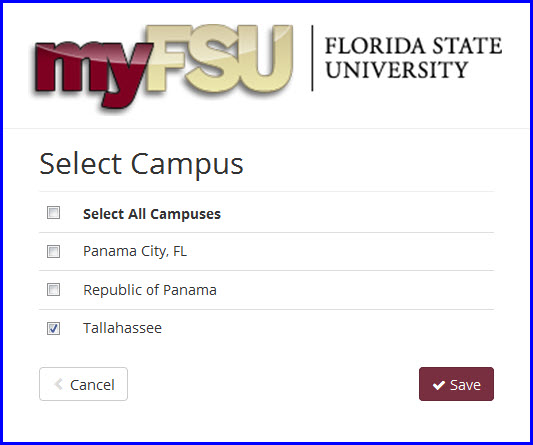 ​ 4. Click Save each time you set a default. Your chosen defaults remain in place for all subsequent Schedule Assistant sessions unless you adjust them.
. Next, add any breaks that you need to include in your schedule. In this example, the student has added a break on Wednesday mornings from 8:00 AM to 11:00 AM.
6. Click the Add Break button, and the scheduled block of time appears on Schedule Assistant's main page. Follow the same steps to add any additional breaks as necessary.
NOTE: Click the Edit wheel to edit the break time or the Delete X to delete the break.

TIP! If you add multiple, optional breaks, when you generate your schedule you can experiment by checking or unchecking the box to the left various breaks so you can analyze the impact on resulting schedule options.
7. Next, if you want to build in travel time between classes (keeping in mind standard class-meeting times have 15 minute breaks built into the schedule), click the Advanced Options button.

8. The Advanced Scheduling Options dialog box appears, where the Class Padding drop-down let's you select from a list of five-minute intervals between 0 and 90.

9. Click the Close X in the upper right corner of the Advanced Scheduling Options dialog box, and your class padding selection appears in the Advanced Options button on Schedule Assistant's main page.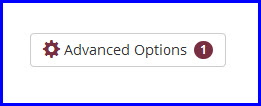 10. Now it's time to add classes! Click the Add Courses button to access the Add Course page.

NOTE: On the Add Course page, if you want to look for an online section of a particular class, click the Search by Physical Location tab and select Online from the Physical Location drop-down list.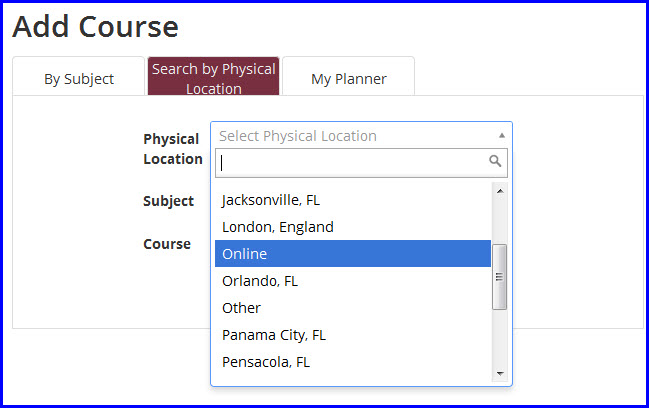 11. In this example, we're going to add four more classes to the schedule: MAC 1105, BSC 2086, CGS 2100, and ECO 2013. On the By Subject tab, click the Subject drop-down arrow and choose MAC, then click the Course drop-down arrow and select 1105.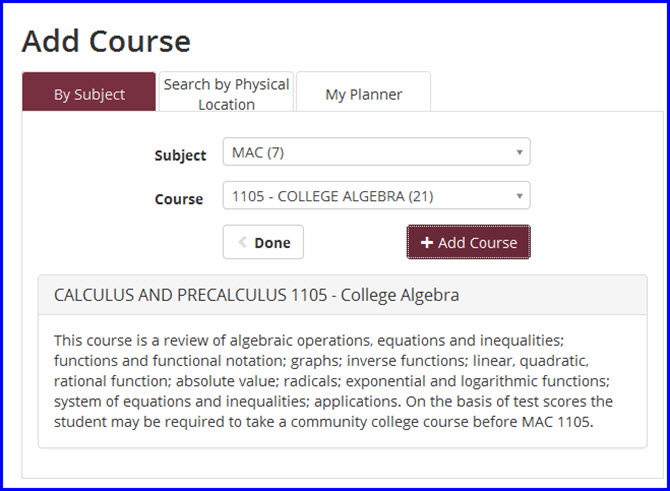 12. Click the Add Course button. An alert appears confirming your selection, and the class appears under the Desired Courses tab at right.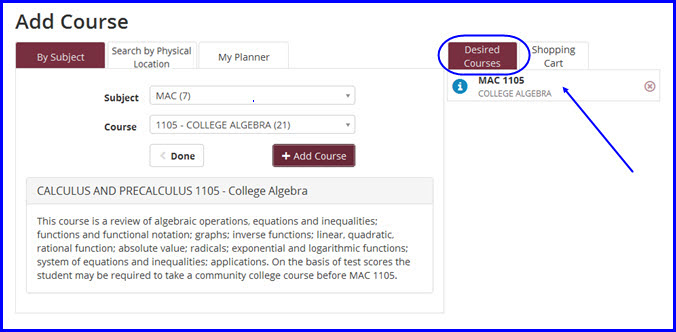 13. Click the Done button. Continue adding classes as described in steps #11 and #12 until you've added all the classes you want to schedule for the given semester.
14. When you're finished adding classes, on the Schedule Assistant main page click the Generate Schedules button.
TIP! If you want to experiment, you can check or uncheck the boxes to the left of specific courses to analyze the impact on resulting schedule options.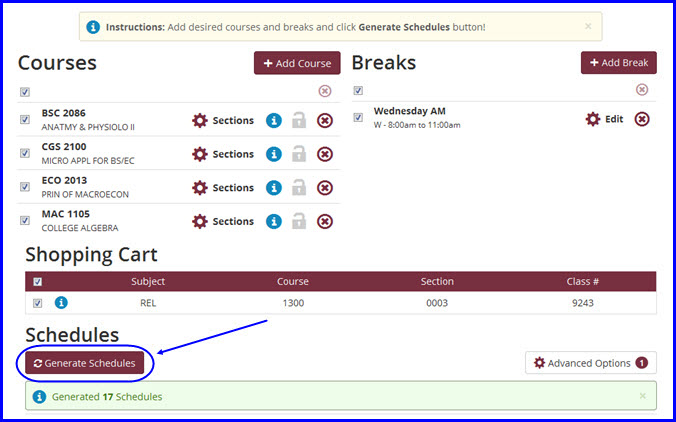 15. In this instance, 17 unique schedules were generated for you to choose from!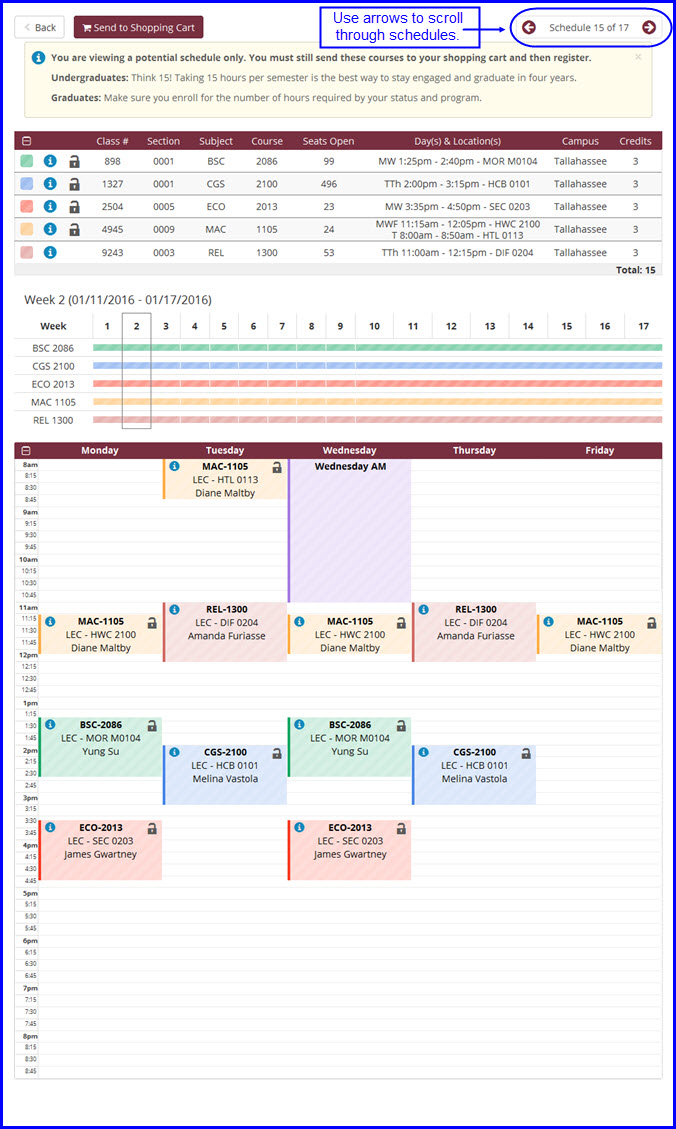 16. Remember that you must check the class details for every class on the generated schedule. You must ensure that the class isn't an online class if you do not intend to take an online class, and you must ensure that the particular section is open to you.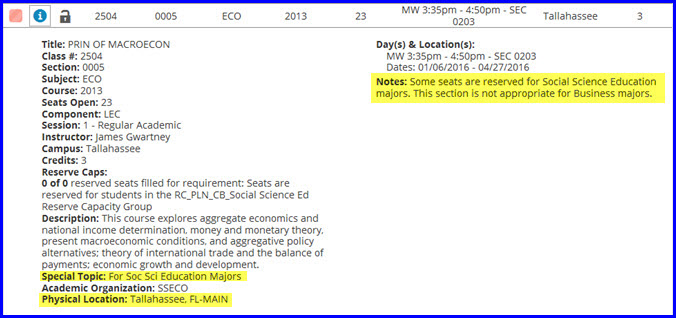 The Special Topics field tells you if the class is an honors section or if the class is reserved for another student group.
The Physical Location field tells you where the class is being taught. If this were an online section, it would reflect a value of ONLINE.
Under the Notes section, you can see that some, but not all, of the seats are reserved for Social Science education majors. It's possible that if you select this schedule, you'll need to make adjustments if the available seats fill before you enroll.
17. When you identify the schedule you want to add to your shopping cart, click the Send to Shopping Cart button.

18. A confirmation message appears. Click OK.

19. Follow the instructions on the "Thank You" page. If you left the window open from Step #2, return to it and click the Course Enrollment button at step #3.
20. When the Student Central Add Classes page appears, click the import cart button. Click Next until all of the classes from Schedule Assistant are added to the Shopping Cart.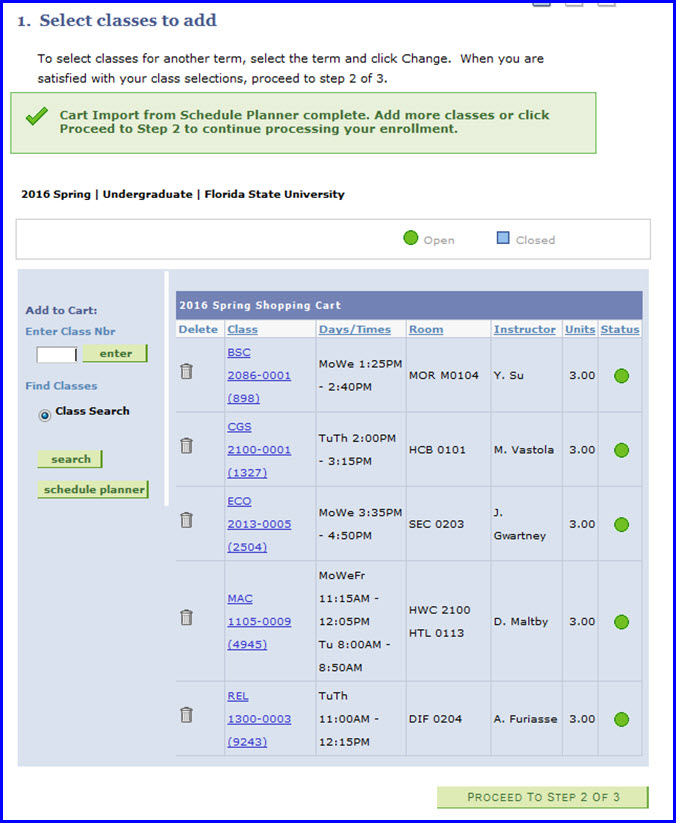 21. Click Proceed to Step 2 of 3 to continue the enrollment process.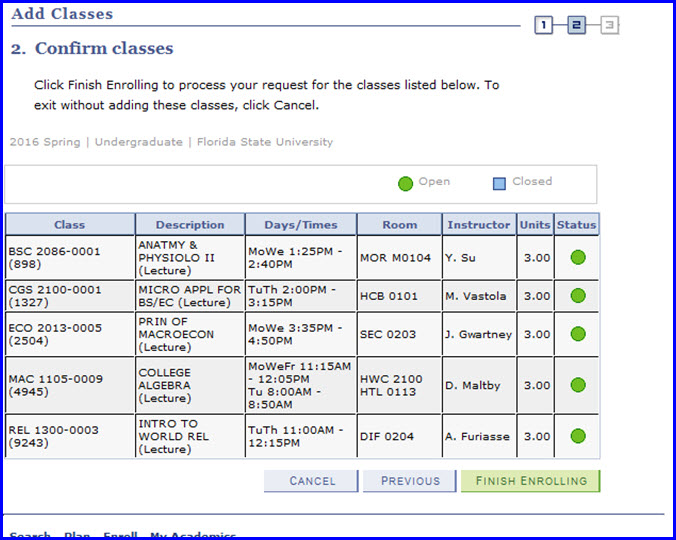 22. Click Finish Enrolling to complete the process.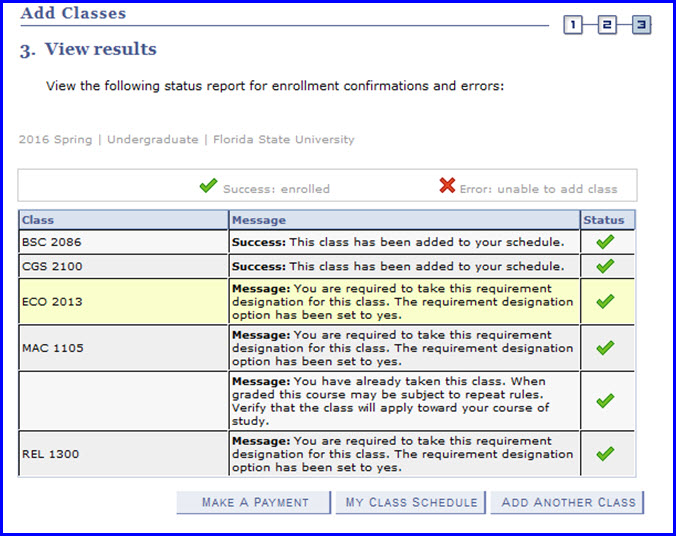 Congrats! You've just built a customized academic schedule with Schedule Assistant.