Delegated Access is a student-initiated process. After your student grants you access, you will receive an email notification providing instructions on the steps you should take to accept delegate access. Students can grant third-party access to a variety of categories, including but not limited to grades, bills, and financial aid.
IMPORTANT! Save or print the email (an example of which is pictured immediately below in Fig. 1) when you receive it. You must return to these instructions to obtain the Security Key and Email Address after you complete the steps below.
OPTION 1: If you do not yet have an FSUID username, or if your current logon is an email address, you will need to create a new account to access your student's records by clicking the link within Step #1 of your Delegated Access registration email message.
BUT
OPTION 2: If you already have an official FSUID, and that ID is not an email address, please begin at Step #4 of your Delegated Access registration email message. Go directly to the instructions below under OPTION 2.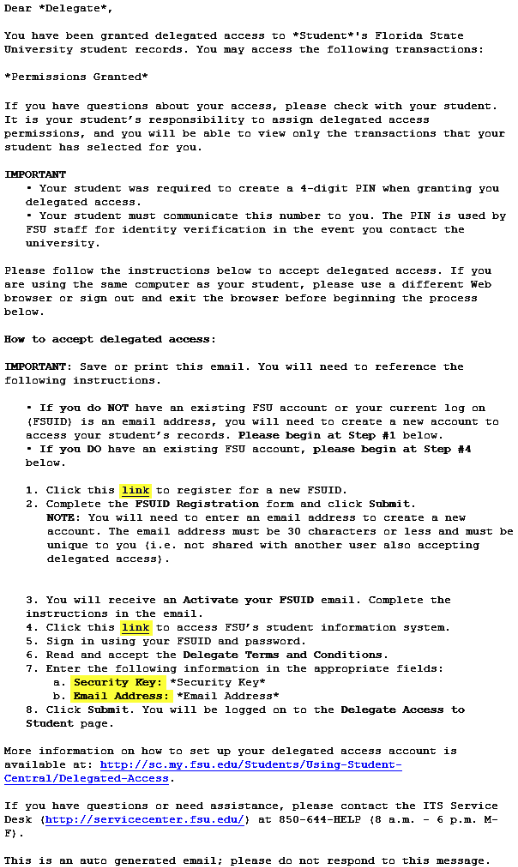 OPTION 1
1. After clicking the link within Step #1 an FSUID Registration page appears.
2. Complete the FSUID Registration form.
CAUTION! The email address you provide to create an account must be 30 characters or less!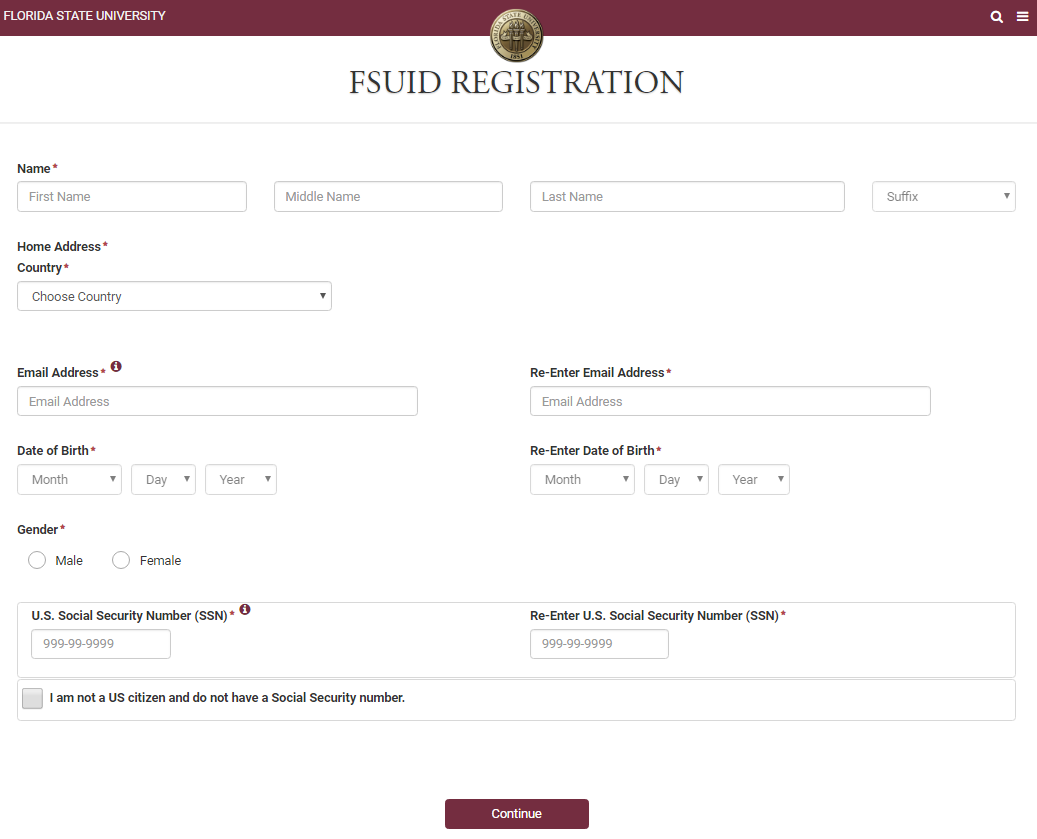 3. Click Continue.
The system displays an FSUID Registration Summary page which allows you to review and edit your information
If your information is correct, select Yes, this is correct to continue
The system will display a successful FSUID registration message and an email confirming your registration will be sent to the address you provided in the form
That next email (Register for an FSUID) provides instructions detailing how to finalize your FSUID activation.

NOTE: Typically, the registration confirmation is sent immediately. However, please allow an hour for receipt.
CAUTION! If you do not receive the registration confirmation email in an hour, check your spam folder. If the email was flagged as spam, add the address noreply@fsu.edu to your anti-spam or contact list.
4. In the Register for an FSUID email, click the link in Step #1. The FSUID Activation form appears.
5. Complete the FSU Activation form and click Submit. The Use of University Information Technology Resources dialog box appears.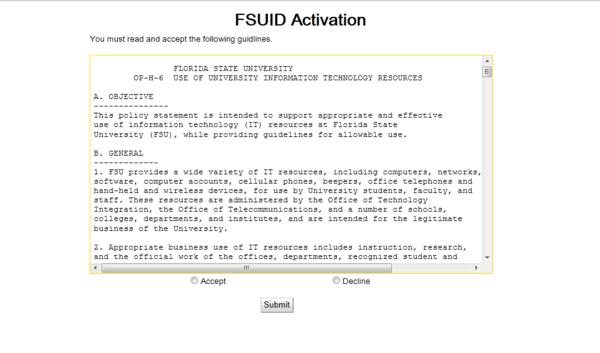 6. Read the policy and click Accept if you agree to the terms.
7. Click Submit. A new FSUID Activation page appears, asking you to create a password.
8. Create a password and click Submit.
9. Continue by following the instructions under OPTION 2.
OPTION 2
1. From the original notification email above, click the link within Step #4 of your Delegated Access registration email message.
2. Sign in using your FSUID and password. The Terms and conditions for accessing somebody else's data page appears.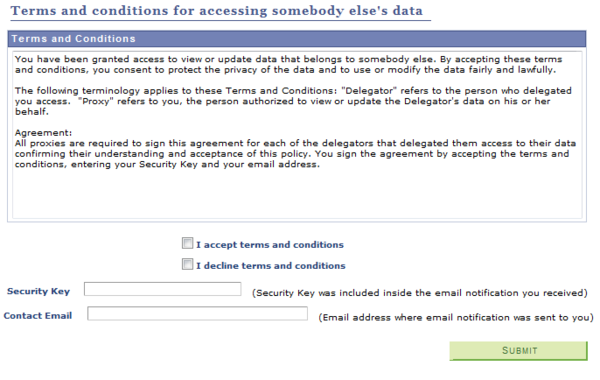 3. Select the I accept terms and conditions check box if you agree.
4. Referring to the original email notification above, enter the Security Key and the email address to which the original notification was sent.
5. Click Submit. You are logged on to the Delegate Access to Student page.
NOTE: This image is for illustration purposes only, and may reflect categories to which your student has not given you access. Further, some categories are calendar-driven. A link can be live but not display information. For example, at some points in the calendar year, a class schedule may not yet be available.
How To Access Your Student's Records
1. When you want to see your Delegated Access in the future, go to https://my.fsu.edu.
NOTE: If you like, bookmark the page for quick access.
2. Log on with your FSUID and password. The the myFSU Student Central portal page appears.
3. At the left-hand side of the page, under myFSU Links, click to expand the Delegated Access category.
4. Click View Delegated Information. The Delegate Access to Student page appears.
title-inside title-centered
2